S2E11 - The Witcher 3: Wild Hunt
Yennefer or Triss? Emperor or Witcher? This game gave us a lot to debate!
3 years ago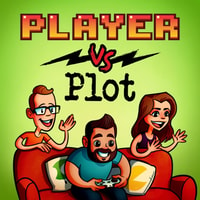 Episode Notes
We tackle another behemoth of a game this week with The Witcher 3! We walk you through the story beats of the main quest, summarize some of the bigger side quests, and analyze what the game has to say about fatherhood, political action, and interdimensional factionalism. We also talk about the unique challenges this game tackles in setting an open world RPG in the world of a licensed property.
Check back each week for a new discussion of a video game story! As always, catch us on Instagram and Twitter at @playervsplot, send your questions and comments to [email protected], and check out our website, http://playervsplot.com!
Time Stamps
0:00:00: What's The Witcher franchise all about?
0:18:15: Important characters to know
0:27:45: The inciting incident
0:39:35 Events in Velen
0:57:40 Events in Novigrad
1:09:35 Events in Skellige
1:20:00 Locating Ciri, Kaer Morhen
1:50:40 Final Quests
2:09:40 Finale and the Endings