S2E8 - Shadow of the Colossus
This game's reputation is as enormous as its enemies! How does its plot hold up in 2020?
3 years ago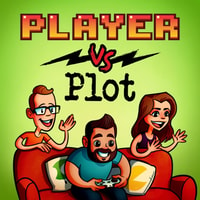 This week on Player Vs Plot we tackle a game that may seem to have a small plot but in the end is full of colossal themes to unpack. That's right, we're discussing Shadow of the Colossus! Join us as we talk about how this game connects with others games, the myths it taps into, and the overarching messages it sets out to convey.
Check back each week for a new discussion of a video game story! Catch us on Instagram and Twitter @playervsplot, send your questions and comments to [email protected], and check out our website at http://playervsplot.com!
Time Stamps
00:00:00 Introduction, what kind of "art" games existed in the mainstream at the time?
00:22:28 The premise and basic plot
00:52:00 Are the Colossi sapient?
00:58:20 The climax
01:17:00 Dormin and the ending
01:25:00 Analyzing the ending
01:44:25 Fan theories and the last secret
01:59:15 Listener questions