S2E5 - Power Progression Mechanics in Video Game Narratives
What does it even mean to level up, and why do we love it so?
3 years ago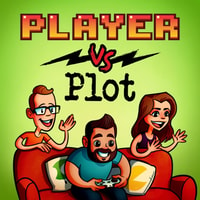 Episode Notes
This week we chat about the many ways in which video games make the player character stronger over time. What forms can it take, what does it accomplish for a story, and what kind of new challenges and solutions has this narrative technique brought to the medium? We discuss all this and more!
Check back each week for a new discussion of a video game story! As always, catch us on Instagram and Twitter @playervsplot, send your questions and comments to [email protected], and check out our website at http://playervsplot.com !
Time Stamps
00:01:45 What is power progression?
00:07:20 Why do we like it so much? What do we get out of it?
00:14:00 The dark side of power progression
00:18:10 Power progression in sequels
00:23:00 How experience points and currency tell a story
00:31:00 Prescriptive vs Descriptive power progression mechanics
00:33:30 Losing progression to serve design
00:37:00 Has power progression become less part of the narrative voice of games?
00:53:00 What kinds of narratives are best served by progression mechanics?
01:12:38 "Increment games" (Progress Quest/Cookie Clicker) and their implications
01:30:00 Summary and wrap-up