S2E1 - Sekiro: Shadows Die Twice
We put the pieces of this fantasy chambara tale together for your convenience!
3 years ago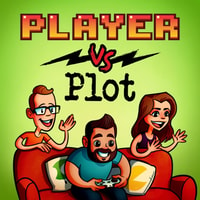 Time Stamps
10:00 Historical Background
0:15:00 - 0:57:30 Opening Cinematic to Genichiro
0:57:31 - 1:51:00 Finding Ingredients for Kuro to Shura Ending
1:51:00 - End Other Ending Paths
Show Notes
Player vs Plot is back with a CLANK!, a SHING!, and a SPURT! In this season premiere we take you through the main plot (and a few side plots) of Sekiro: Shadows Die Twice! We take a look at the main script, item descriptions and historical background to summarize and analyze one of our favorite games of 2019.
Check back each week for a new discussion of a video game story! As always, catch us on Instagram and Twitter at @playervsplot, send your questions and comments to [email protected], and check out our website, http://playervsplot.com!