S2E10 - Frame Narratives in Video Games
Stories within stories: a game technique more common than you may think!
3 years ago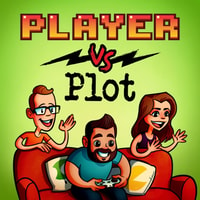 Think of today's episode as a story within a story - because we're doing framing narratives! We discuss games that have you playing out a story being told in-universe like Prince of Persia: the Sands of Time, Dragon Age 2, Final Fantasy X, and more. It's a classic narrative technique, but how does it fare in the realm of video games? Tune in to find out!
Check back each week for a new discussion of a video game story! As always, catch us on Instagram and Twitter at @playervsplot, send your questions and comments to [email protected], and check out our website, http://playervsplot.com!