S2E6 - Animal Crossing: New Horizons
We unpack the narratives of home decorating, mortgages, museum curation and talking to your neighbors!
3 years ago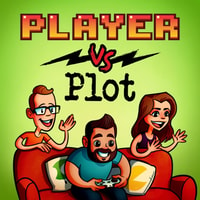 This week we tackle the Animal Crossing series, with a particular focus on its latest entry: New Horizons. We discuss its peculiar "communication" genre label and try to pin down what common stories will emerge from the game's many activities. We also discuss the movie adaptation and some popular fan theories!
If you're an Animal Crossing fan or just wondering what story we could possibly be pulling from this series, this episode is for you!
Check back each week for a new discussion of a video game story! Catch us on Instagram and Twitter @playervsplot, send your questions and comments to [email protected], and check out our website at http://playervsplot.com !
Time Stamps
00:00:00: Intro, release history of the series
00:12:30: Main concept of Animal Crossing, discussing the "communication" genre
00:25:30: What's the player character supposed to be?
00:34:45: Animal villagers, their role in the game, and their personality types
01:23:00: Exploring common narrative threads in an Animal Crossing experience
01:32:45: The Animal Crossing movie adaptation
01:47:15: Development of the original Animal Crossing
01:52:50: Fan theories
02:09:00: Further Reading